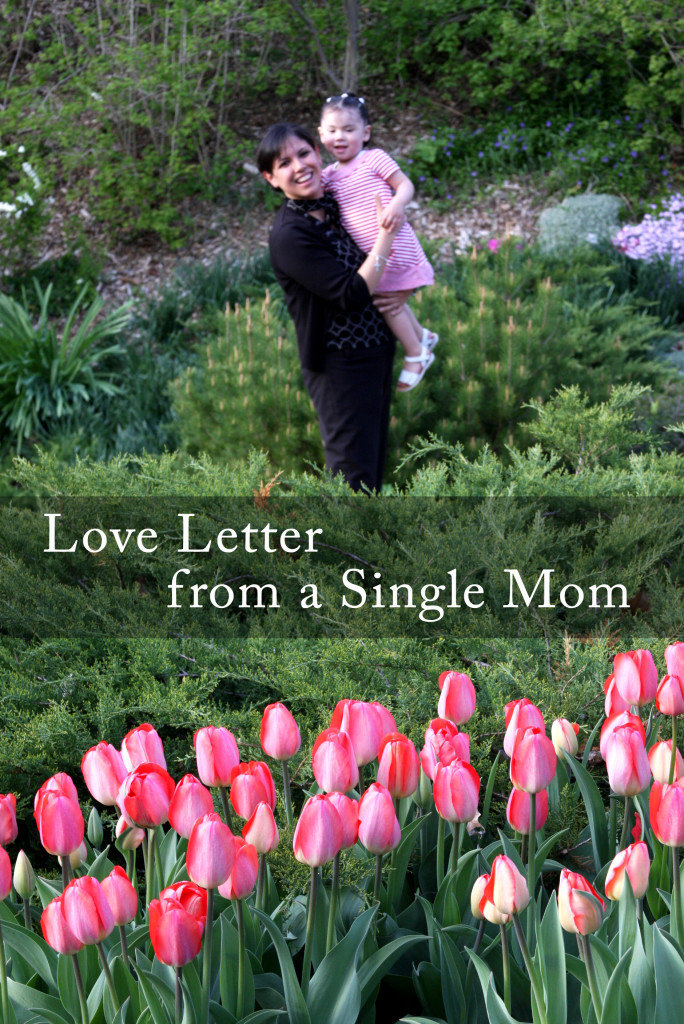 Dear Sara Michelle:
I have tried to write this letter for a long time but there is always something to do at home, and every time I sit down in front of the computer you are determined to drag me away from it.
I love being your best friend. I enjoy it every time that you impatiently request my attention. But sometimes I have to pay the price! It is impossible for me to make a phone call or to send an e-mail. Not to mention when I try to clean up a mess or do any other thing! You grab my hand with your beautiful bossy attitude and you make me sit by you to watch cartoons or to help you color your books.
I have a few minutes today, so I am going to try to describe in a few lines all the love that I have in my heart for you, from the moment you came to my life until today.
Sometimes I wake up in the middle of the night just to watch you sleep. It feels like a second all the time that has gone by. It is hard to believe how big you are now. Sometimes I cannot believe how beautiful and perfect you are. I love your endless energy and your love for life. I am fascinated by your eagerness to learn new things.
When you do the little things that other kids do, it looks to me like works of art, every new word you say, every new song you sing, every new project that you complete…
I am so impressed by the way you socialize and the way you communicate with everybody. You are so confident, so fearless! You want to know everyone and you want to tell them everything about yourself. You don't care much about cultural barriers or language differences. You only want to get close to people and have delightful conversations. I have so much to learn from you my beloved Sara Michelle!
I never thought I would find this kind of happiness in my life. I never thought I would be so thankful for my life and yours. Being your mom has been the most extraordinary thing that has ever happened to me. I never thought that a human heart was capable of loving so much, so intensely. I never understood these supernatural levels of love and happiness until I experienced the miracle of motherhood.
Even in those moments when it gets really hard to walk this new path that we walk together, I want to tell you my beautiful Sara Michelle, that I would not trade a single minute of my life with you, for all the riches in the world. Nothing has brought to me more joy and blessings than these two years full of your kisses, your laughs, your beautiful questions, your jumps in my bed, your lullabies, and all the wonders that came along with you. Two years ago you were this tiny, sleepy, hairy baby, and now you have become an extraordinary beautiful girl, so full of life!
Tell me my dear Sara Michelle, how can you forgive your mommy when I have to discipline you sometimes? Why do you still love me when I have to leave you at daycare so many hours a day? How can you run to my arms every afternoon when I show up at the door to pick you up, and then you give me a kiss full of excitement and love? How much innocence, tenderness and generous love you have in your 2 year old precious little heart?
My beautiful little girl, I have something to confess today. When you were younger and tiny, and when I realized for the first time that you were inside me, I faced the darkest moment of my life. At that moment it was really hard to understand how much I was going to love you one day. I felt very lonely and sad. I felt like my whole world was closing on me. I was mad at everyone and I was terribly mad at myself.
I want you to know my beautiful little girl that in spite of all my mistakes and in spite of being away from God's ways for so long, your life is not a mistake. You are not a mistake!!! You have always been in God's perfect plan. And the plan He had for me, for my conversion, for my salvation and for my happiness.
You, my beautiful little one, have saved my life in every possible way. I honestly don't know what it would have been of me if you wouldn't have come to show me what real love is. You helped me understand how big and pure is the love that God has for us, His children, regardless of our mistakes.
God used your beautiful existence to make me a new person, willing to give everything for you. Because of you, the darkness has disappeared of my life. Two years ago you became my light, my hope, my dreams, but most importantly, you have become my way back to God.
My beloved Sara Michelle, thanks to you I found an extraordinary meaning to my existence, and even though we are just starting this journey together, these 2 first years have been for me of great happiness. If I could go back in time, and I had the chance to chose, I would chose to be your mom again, and nothing would make me happier than having you in my arms again, the way you were, so little and so fragile. Nothing would make me happier than being able to live these two years again, that I can describe like the most wonderful years of my whole life.
I love you with all my heart,
Mommy